We desire to create a community that is intentionally diverse, radically welcoming, practices ways to connect with God and each other, and invites everyone to live out their unique gifts and strengths.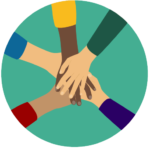 We are vandy wesley
We are a Methodist-based campus ministry that welcomes students from all backgrounds. We encourage open dialogue and critical thinking about our personal faith journeys. We gather weekly for dinner and student-led discussions, as well as, special events and service opportunities throughout the year.
meet our
campus pastor
Rev. Aimee Baxter is a Deacon in the United Methodist Church and has been involved with campus ministry for over 20 years. She would love to get to know you better over a cup of coffee. Visit the Engage section of the website to sign up or send her a text or email.
Aimee's Cell
(706) 536-2751
Email Aimee
abaxter@westendumc.org
Drop by the wesley office
Suite 201
It's in the house behind Branscomb