We desire to create a community that is intentionally diverse, radically welcoming, practices ways to connect with God and each other, and invites everyone to live out their unique gifts and strengths.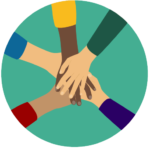 We are all on a journey
We believe that the decision to follow Jesus is a life-long journey with many twists and turns. We value asking questions of Scripture, reflection on our experiences, courageous and vulnerable conversations, and strive to be open to different perspectives and beliefs.
Impact
We recognize that people are transformed through relationship with God and others and that God is already at work in the lives of everyone we meet. We hope to impact students through leadership development and connecting them to resources for spiritual wholeness, mental health, and physical safety. We also hope our impact reaches beyond our student community to have a positive impact on the entire Vanderbilt campus, Nashville, Tennessee, and beyond.
We will update once we are back to meeting in person.
support the work of vandy wesley
Nancy's Cell
(615) 343-0261
Email Nancy
nancy.h.parker@vanderbilt.edu
Drop by nancy's office
Suite 201
It's in the house behind Branscomb